Aluminum Casting Consultant
Steve Midson is an aluminum casting expert with wide experience in a number of casting processes, including continuous casting, gravity casting, die casting, squeeze casting and semi-solid casting. Midson's experience as an aluminum casting consultant has included working with a wide range of aluminum alloys, including 201, 319, A356, 357, 359, 360, A380, and 390, as well as a number of metal-matrix composites.
The types of services provided to clients as an aluminum casting consultant has included research and development, project management, marketing and commercial manufacturing.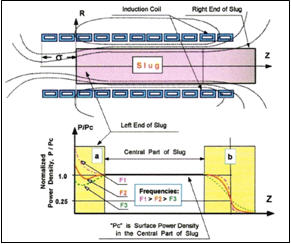 With The Midson Group your organization will be ready to move forward with your new aluminum casting project. Contact Steve Midson at The Midson Group today to learn more about how our consulting services can benefit your organization.
Related Articles:
Die Casting Expert
Metal Casting Expert
Metallurgical Consultant
Aluminum Casting Expert
As an aluminum casting expert, Midson can provide consulting services for a range of methods of heating and melting aluminum, including electric resistance, gas and induction. The diagram on the right shows a figure from a paper published by Midson together with co-authors from Inductotherm showing the power distribution along the length of a metal slug during induction heating.
Midson's work as an aluminum casting expert has involved the production of a wide range of castings, as shown in the photographs below. These have been produced for markets such as automotive, recreational, electronic, industrial and defense.
Turn to The Midson Group for all of your metals industry consulting needs. With years of both academic and industrial experience, Steve Midson is prepared to provide your organization with the expert perspective you're seeking regarding your current or future projects.
Related Articles:
Rheocasting
Die Casting Consultant